History of British Shorthairs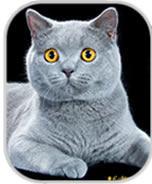 The British Shorthair is said to have originated from the common domestic cat of ancient Rome, and are believed to have been brought with the Romans when they invaded and ruled England two thousand years ago. Which then interbred with wild native cats.
During the nineteenth century, the interest in pedigreed cats flourished in Victorian Britain. As exotic cats from the far and near orient arrived, some breeders decided to recreate the local British Shorthair as a pedigree in its own right. In 1871, British Shorthairs were shown as a breed in the Crystal Palace cat show.
With the development of the new cat breeds, interest in the British Shorthair declined, but the breed's revival after the Second World War encouraged British breeders to make improvements by cross-breeding with Persian cats. This enhanced the round thickset look of the British Shorthair.
The British Shorthair is a comparatively rare cat in the United States. Around 1980 it was recognized for championship competition by CFA, again stimulating much needed interest in the breed.

Recognized world-wide, "Brits" are still imported today from England, Ireland, New Zealand and Australia to help widen the gene pool for breeders in the United States, and vice versa.